Biography of Sir Jacob Behrens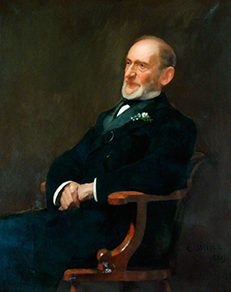 Jacob Behrens was born in 1806 in the town of Bad Pyrmont, Germany. From a young age he was introduced to textiles as part of a family tradition to one day continue Behrens' long line of textile manufacturers and traders. Jacob's father, Nathan Behrens imported goods from the expanding textile business in England to distribute woollen and cotton goods to the growing urban centres of Germany. Moreover, Jacob's uncle initially operated in Hamburg, and later manufactured goods in England to distribute around Europe.
After serving an apprenticeship in his father's firm, Jacob became a buyer within the business, and at the age of 28 he travelled to England for the first time to negotiate with the company's local suppliers. After many years of unsuccessfully persuading them to make up goods to his exact specifications, Jacob recognised the advantages of having a permanent agency in England. Leaving their father's end of the business to his younger brother Edward, Jacob rented a warehouse and a factory in the centre of Leeds, employing 3 warehouse staff, operating just one rolling machine and two second-hand wooden presses.
In 1834 Jacob Behrens began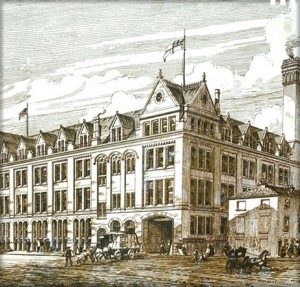 to manufacture and pack woollen textiles, firstly working directly with his father's firm, then becoming a merchant-manufacturer on his own account and thereby establishing the company "Jacob Behrens".
Upon the arrival of Jacobs' brother, Louis, the company relocated to Thornton Road, Bradford in 1838, becoming the first ever textile export merchant in the city. This gave rise to greater trading opportunities leading to the opening of another branch in Tib Lane, Manchester, 2 years later for the export of cotton cloth. Manchester, the textile capital of the world and the city that led the Industrial Revolution, offered even greater economic prospects. Throughout the next few years the company underwent significant expansion, becoming one of Britain's largest textile manufacturers, exporting goods across Europe, the Far East and America.
In addition to his business endeavours, Jacob Behrens worked tirelessly for the progress of the Bradford community, whereby his charitable initiatives benefited local education, hospital services and concert music. In 1862 he built a new high school at his own expense after finding the local grammar school in a wretched state and the headmaster unwilling to make changes. Jacob's views on education became known nationally, and were sought by William Forster, the minister responsible for the education Act of 1870.
Jacob Behrens left an indelible mark on British society through commerce, philanthropy and civic leadership. In 1882, his contribution was recognised by Queen Victoria who knighted Sir Jacob in a ceremony at Windsor Castle for strengthening trade relations between Britain and France after a period of unrest between the two countries during the Napoleonic Era.
While in 1840, the company's annual turnover was about £300K, by 1889, when Sir Jacob passed away, it reached £40 million with branches all around the world including London, Glasgow, Calcutta (now Kolkata) and Shanghai. Upon his death in 1889 it was written, "he seemed only to exist to be of service to his fellow men".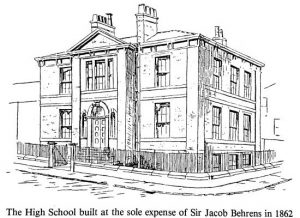 Integrity and commitment to quality were Sir Jacob Behrens' core principles of business conduct, as enshrined in our company motto he adopted: 'Esse quam videri' – To be, rather than to seem. We remain true to the ethos once fostered by our founder and woven into the very fabric of our organisational culture. Our near 200-year reputation for excellence is a reflection of that culture, built on a tradition of trusted products, faultless service and an unwavering belief in authenticity.
Have a look through our Company Timeline to uncover more milestones that shape the history of Behrens Group.