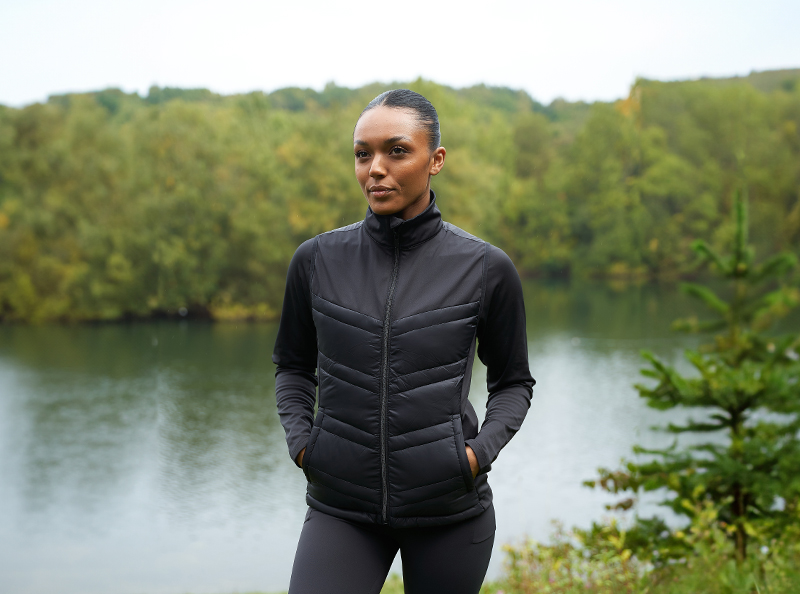 Prepare for the winter season demand with our vast range of premium outerwear options. Whether it be everyday jackets for team sports or an all-year-round gilet design, you're in the right place for shopping customer clothing for the winter!
Everyday Staples: Eco Tech Gilet & Matchday Jacket
Many consumers across the UK are on the hunt for a new staple winter coat. They want something that's going to offer an extra layer of protection from the elements.
Our Eco Tech Gilet and Matchday Jacket are the perfect staples for wearing on the go, day-to-day. Insulated and water-repellent, these designs will keep your customer suitably dry. The best part? They're the perfect canvases for branding across various markets!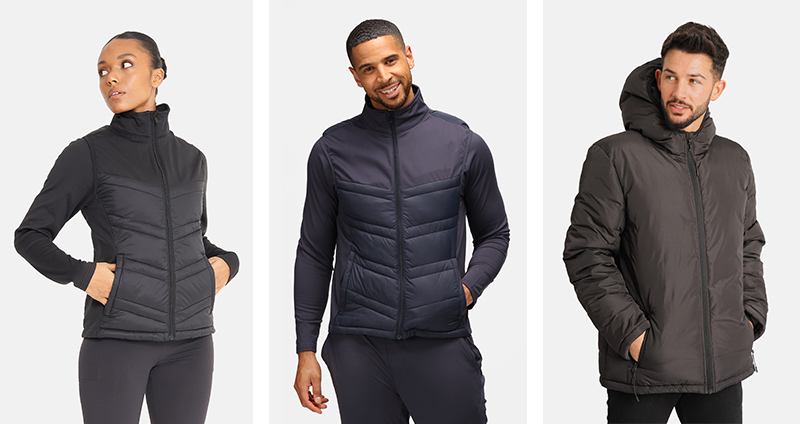 Shop womens Gilet          Shop MENS Gilet         Shop matchday jacket
Active Lifestyles: Thermal Robe, Stadium Jacket & Sub Coat
With always-on-the-go buyers looking for their newest thermal jacket or winter coat to throw on outdoors, our selection of Thermal Robes, Stadium Jackets & Sub Coats offers warm clothing options for everyone.
All three of these outerwear layers are built to keep up with the active lifestyle wearer.
We make our Thermal Robe from a 100% Polyester water-resistant outer and 100% Polyester Sherpa Fleece inner. It features a built in hood and adjustable long sleeves with hook and loop cuffs. We've also included 2 concealed inner pockets and 2 outside zip pockets to keep belongings safe.
Alternatively, our Sub Coat offers a more streamlined fit, with 2 side pockets, reflective piping detail and adjustable Velcro cuffs.
Finally, our ¾ length Stadium Jacket is water resistant with a quilted lining for full upper body protection. It also features 2 side zipped pockets for keeping belongings safe.
These active pieces are available in a fantastic selection of core colours to offer the perfect base for adding branding. They come in sizes XS – 3XL, allowing the wearer to feel comfortable during all activities.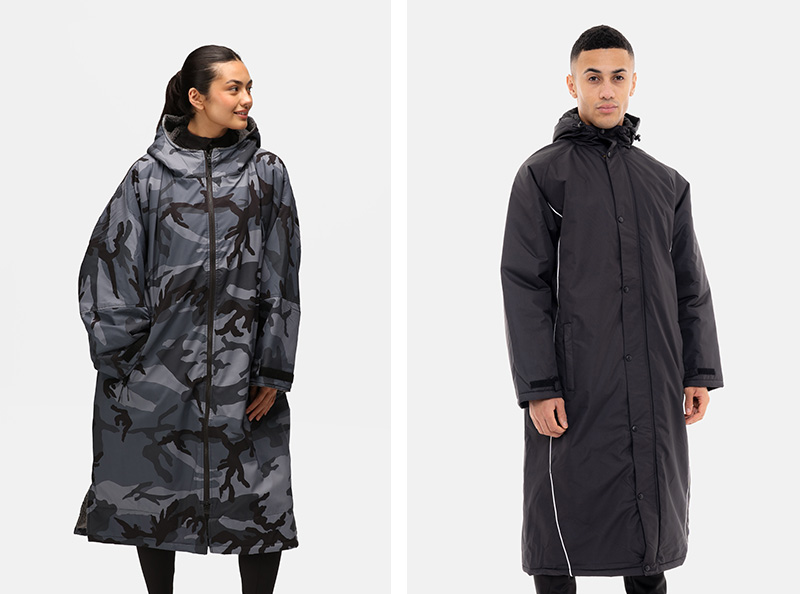 Shop thermal robe        Shop subcoat     
Outerwear for Sports Teams: Track Jackets & Windbreakers
With coordinated colour panelling in bright colours, these athletic styles are made to complement every school and sports team. Each distinct shade enables easy identification of teams whilst encouraging healthy competition on the pitch.
When it comes to outerwear for team sports, customers are looking for contact tops that offer all-round upper body protection, freedom of movement, and insulation when needed. Our pro training top is perfect for training, pre match stretching and for keeping warm whilst on the side-lines.
We make our Contact Tops from PU (Polyurethane clear coating) and a mesh inner lining. They also feature reinforced seams and drawcord adjusters at the hem to keep the wind and rain out.
Our Pro Track Jacket is weather resistant with a concealed hood and easy branding access. Perfect for sporting days when a little more protection is needed from the stands!
Each of these sports team go-to's are specifically designed with customisation in mind, offering easy access for adding embroidery.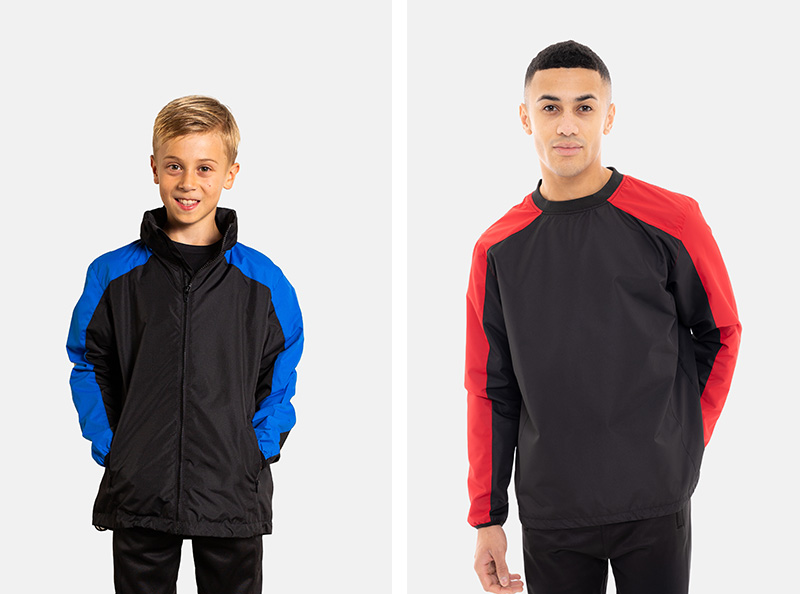 Shop PRO TRACK jacket     Shop PRO windbreaker 
Shop unbranded clothing for outdoor leisure to meet your customers exact needs this winter!